Voting has now closed for the current WRE Community Forum policing priorities (local neighbourhood priorities for the WRE area). 251 votes were cast.
The top four priorities voted for by residents on the Warwick Rural East area have been adopted as local neighbourhood priorities.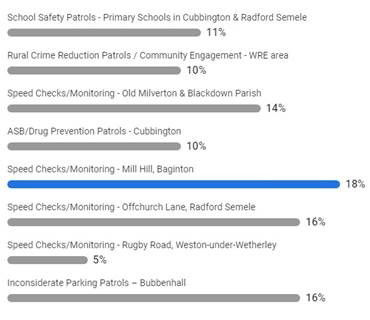 Warwick Rural East SNT will focus on these priorities between now and November 2021.
The Community Forum policing priorities process enables persons on the WRE area to have their say about what matters to them, and ensures continued engagement between the local SNT and the communities they serve.
Your local SNT will still conduct routine patrols in your area to prevent/detect offences and engage with members of the public.
If you have any questions, please email wre.snt@warwickshire.pnn.police.uk or call on 01926 684471.
The results of the policing priorities that were conducted between February 2021 and June 2021 can be seen here.