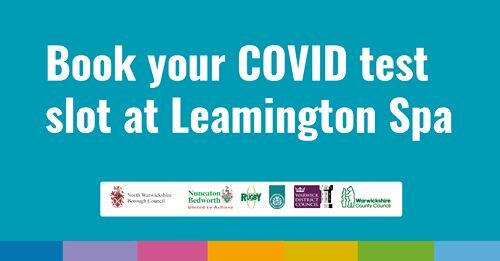 Locally led testing for people without coronavirus symptoms is set to be rolled out in the Warwick District next week with the aim of protecting those most at risk. To find out more or to book your slot visit.
The centre, which is being delivered in partnership with the Department of Health and Social Care, Warwickshire County Council, Warwick District Council, and a network including volunteers, aims to help us work towards returning life to as normal as possible.
The tests will be available for those without symptoms of Covid-19 from Tuesday 22 December at the Adult and Community Learning site on Pound Lane in Lillington, Leamington Spa.
The tests are available for booking between 8am and 8pm, Monday to Friday and 10am to 4pm on Saturday and Sunday and can be used weekly.
The service uses the fast turnaround lateral flow test kits, which can deliver results in around an hour. Tests can be booked here: https://www.eventbrite.co.uk/o/leamington-covid-community-testing-32065805335
Lateral flow antigen tests are a new kind of technology that can be used to test a higher proportion of people without symptoms, better enabling us to identify and isolate more people who are at high likelihood of spreading virus and break the chains of transmission.
Please note, only people without Covid-19 symptoms should book a test.
Anyone with symptoms of Covid-19 – a high temperature, a new continuous cough or a change to their sense of taste or smell – must self-isolate and book a test via https://www.gov.uk/get-coronavirus-test or by calling 119 as usual.