Elections for Warwickshire County Council and the Warwickshire Police and Crime Commissioner are taking place on Thursday 6 May, combined with several Local government by elections and Neighbourhood Planning Referendums also taking place across the District. We are looking for staff to work in the polling stations as Presiding Officers and Poll Clerks.
If you are interested in any of the below vacancies, please download and complete the application form and email it to elections@warwickdc.gov.uk
The Returning Officer and the Electoral Services Team are committed to ensuring that every step is being taken in protecting staff and electors from COVID-19. Many of the measures you have become used to over the last year such as screens, hand sanitiser and face coverings will be in use in the polling stations and at the Count.
An additional Poll Clerk will be assigned to each polling station to ensure COVID-19 safety measures are adhered to, working on a rota basis with the other Poll Clerks at the polling station to assist in the management of the number of electors entering the polling station, maintaining social distancing and cleaning of surfaces, polling booths and other touch points.
Staff will need to bring their own food and refreshments to eat during the day, as these will be not be provided and you will not be able to leave the polling station or count centre during the day.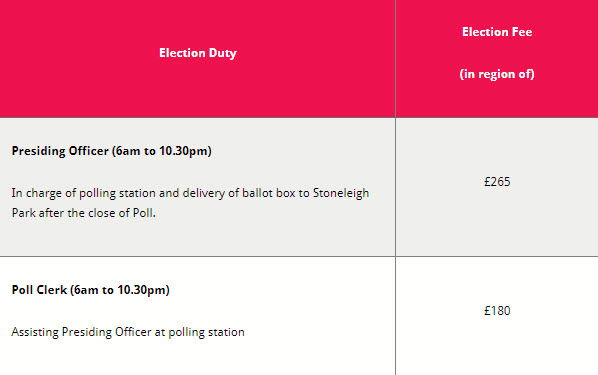 Fees
All election fees are subject to deduction of Income Tax at source and will be paid approximately 6 weeks after the election. Election fees are exempt from National Insurance contributions.
Travelling expenses will be calculated separately at the non-taxable rate of 45 pence per mile. Persons employed on the election using a car must have a "business use" clause on their personal motor vehicle insurance policy, which allows them to use their vehicle at this election.
Hours of Poll
The hours of poll for these elections are 7am to 10pm and polling staff will be expected to arrive at their appointed polling stations by no later than 6.15am on Election Day.
Polling staff training
Training for all Presiding Officers and Poll Clerks will be internet based. This training can be done at your own convenience. All POs and PCs will receive the training fee of £30.
For more details click here or apply using the application form, link below.
Application form